Are you looking for a means of making passive income at the comfort of your home? Thinking of joining dialwidgets.com? Before doing that, read this review to the end to find out more about this money making venture.
It is common to see several platforms online claiming that they can assist you in making steady income for yourself. This is as a result of the fact that people are always seeking for ways to improve their financial status. Therefore, one need to thread with caution.
About dialwidgets.com?
It is an online money making venture located at dialwidgets.com. They claim to provide a fool proof way of earning automated income every month. It is also said to be a platform where you can learn how to make $1,000-$2,000+ Per Week on Auto-Pilot.
Are these claims legit? Certainly not. Read on to find out the hidden truth about Dialwidgets.com.
5 red flags we found about dialwidgets.com
Below are some of the suspicious information we found about this website
Unknown owners
There are no details about the owners of dialwidgets.com. They did not even bother to provide contact address or phone number. This makes signing up with them risky. We usually advise our readers to make use of sites whose owners are transparent to reduce the risk of being scammed.
Deceptive offers
The promise of making over $2000 every week for you is to good to be true and impossible to be made from this platform. Mouth watery offers is one of the commonly used tactics that scammers employ to defraud unsuspecting users of their hard earned money. Therefore, we advise our readers to always be careful and carry out due diligence when dealing with platforms like this.
Poor trust rating
Dialwidgets.com has a very low rating on trust pilot. Also, we could not find any user review of this platform. This is an indication that there is something fishy about this platform
Stolen Identity
Searching for dialwidgets.com on your browser redirects to another website, pauljames.co. You get the chance to register for a seminar as soon as you click on the "I want access" link. However, you are required to fill in your name and email. We do not advice you to do so because as soon as you provide those details, they will redirect you to another website where you will get the webinar videos. The video displays screenshot of fake earnings and also prompts you to purchase various software that will help you generate links so you can start earning. This is to show you that you are about signing up with a crook platform
Newly registered website
One of the things people should look out for in a website is how long it has been in existence. Unfortunately, dialwidgets,.com happens to be a newly registered website. It was just created in June 14, 2022 and expires June 14, 2023.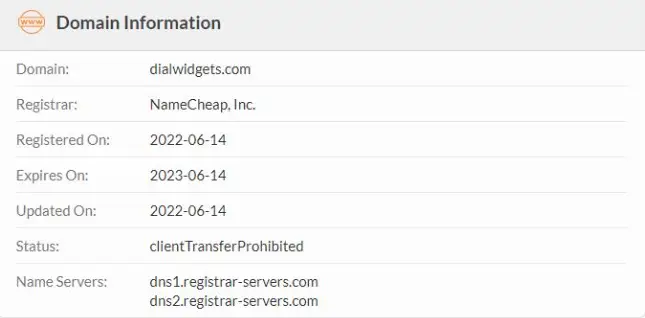 This shows that the store lacks credibility. One need to be cautious when signing up for services from a very new website because they lack security.
Can you make money from dialwidgets.com?
The answer is NO! You will not make a dime from this platform. Instead, you will end up losing your hard earned money to this scam if you sign up with them. The poor rating and other red flags says it all. We do not endorse dialwidgets.com
Have you signed up with dialwidgets.com recently? Kindly drop a message in the comment section telling us about your experience.