Looking for an effective deicing instrument for your car and you heard about Heat Wolf Deicer? Do you wish to know whether those claims from sites promoting this product are genuine? Then check out this review.
Unfortunately, we have carried out our investigations and we found out that this Vehicle Microwave Deicing Instrument is not that it claims to be. We will be exposing the truth about this product in this review. Read on!
Overview of Heat Wolf Deicer
Heat Wolf Deicer claims to be the most effective solution to vehicle damage, aging and an increase in traffic accidents caused by snowstorm. All you just have to do is to keep the instrument in a safe and stable place inside the vehicle and the work is done.
This, they claim is made possible with the help of its microwave molecular and radio technology put together in a research at the University of Tokyo in conjunction with the Molecular Materials Laboratory at the Massachusetts Institute of Technology (MIT).
However, as convincing and good as this seems, it is far from being the case in reality. We will uncover the downsides of this product shortly.
Does It Really Work? Here's My Experience With Heat Wolf Deicer
After hearing the so called benefit of this device, I decided to try it out with the hope that it will help eradicate snows and ice that usually obstruct my view while driving. I quickly placed an order for it. To my greatest surprise, when it arrived, I opened it and .discovered that the product is not even a vehicle deicer but a diffuser that you simply place on the cup holder in your car.
I tried reaching out to the customer service to express my disappointment and possibly get a refund but there has not been any response from them till this moment. I wish I never spent my hard earned money on this deceit of a product.
Drawbacks Of Heat Wolf Deicer
Below are some of the suspicious information we found about this Vehicle Microwave Deicing Instrument.
Not Scientifically Tested
The claim that this product came about as a result of scientific researches is a blatant lie. It is just a mere strategy to lure people into thinking that they are genuine. If it were to be true, there would have been several articles published by the University of Tokyo to that effect but there is none over the internet at the moment.
Just A Mere Diffuser
This product does not help remove snow and ice from cars in any way. As a matter of fact, it is just an ordinary air diffuser., You will only get to find out that you have been scammed when receive your order.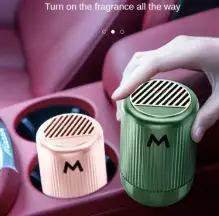 Pros
It is easy to carry about
It is available for sale on many websites
It does not require power supply to function.
Cons
It is not a deicer but a diffuser
It is not built on any unique scientific technology and research as claimed.
It is pricey.
Their marketing strategy is centered on falsehood.
Is Heat Wolf Deicer Worth Your Money?
The answer is NO! HeatWolf Vehicle Microwave Deicing Instrument is not what they portray it to be. The bogus claims, high cost, poor quality and other complains are enough prove that this product is a sham and is not worth your money. As a result, I do not recommend this product. Click here to see effective ways to defrost your car this winter season. Other products we have reviewed are Wush pro ear cleaner, Snortium anti snoring device and Legxercise Pro
Have you made use of Heat Wolf Deicer? Did it work well for you? Kindly drop a message in the comment section telling us about your experience.