Are you suffering tooth discoloration and you wish to know whether Miracle Smile Water flosser is truly capable of eradicating those stubborn stains and plagues, giving your teeth a long lasting freshness so that you can smile confidently? Then, this review is for you. Read this review to the end to know whether it is worth buying or not.
About Miracle Smile Water flosser
Miracle Smile Water flosser is an oral hygiene product. This portable water flosser is said to be capable of effectively cleaning the teeth easily just within few seconds. It also claims to combat stains and plagues, leaving you with a healthier gum. Those with sensitive teeth and gums do not have to worry because the product designed to accommodate their oral needs.
Now, the question here is this: Does Miracle Smile Water Flosser really work as it is being showcased? We will uncover that shortly.
Features Of Miracle Smile Water Flosser
This water-powered dental flosser is rechargeable and cordless. It has four water jets for fast and easy teeth cleaning. There are three water pressure setting so you can choose the one that suits you. The product weight is 0.67 lb and the dimension is 2.50 x 3.31 x 11.75 Inches. It comes with a 220ml water tank that is transparent and can be re-filled.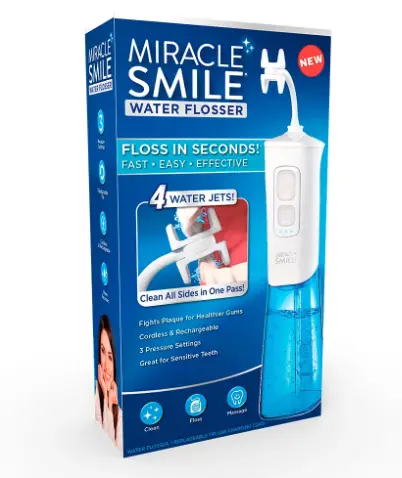 How To Use
Step 1: Fix in the head of the H-Shaped flossing firmly to the top of unit.
Step 2: Open the water fill door that is at the back of the Water Tank, fill the water tank completely then close the water fill door firmly. (Note: Pour in the quantity of mouthwash you want before filling up the tank with water).
Step 3: Place the H-Shaped flossing head into your mouth and close your mouth.
Step 4: Turn on the flosser using the ON/OFF Button.
Step 5: Move it gently and continuously across the teeth from one side to the other.
Step 6: Press the ON/OFF button to turn it off as soon as you are done using it.
Note: You can decide to refill the water tank and repeat the process to get the result you desire.
Is Miracle Smile Water Flosser Safe To Use?
There have not been any known side effect of using Miracle Smile Water Flosser. Generally, water flossers are said to be more effective and safe to use compared to other ways of dental cleaning. However, there is still a need to seek the doctors approval before use.
Does Miracle Smile Water Flosser Really Work? See Reviews From Users:
While this product is being praised for its portability and ease of use, there seem to be several complains from users. According to them, this flosser does not live up to its claims; It only functions as a mere flosser that rinses the mouth and takes out food particles but those stains and tartars do not go away as expected.
Secondly, some users complained about the noise that comes from the flosser, stating that it quite discomforting. They also find it difficult to control the device to prevent water from leaking out of the water tank. A user also mentioned that the product was not delivered after several months of ordering.
Generally, Reviews from users shows that Miracle Smile Water Flosser does not give value for its price. It is less effective when compared to other similar products in the market.
Pros
It is cordless and can be recharged,
It is portable and light weighted
It has three pressure settings you can choose from
It is easy to use
Cons
It is pricey
This water flosser does not work as claimed
Water leaks out the tank while in use.
The device is a bit noisy.
Where To Purchase It
You can buy this product either from their official website (buymiraclesmile.com) or from E-commerce stores like Walmart. The product is sold for $39.99.
Similar Products Better Than Miracle Smile Water Flosser
If you are looking for a more effective dental water flosser, Then you should try out any of the following products.
MySmile Irrigator X: This is a cordless device that makes use of battery. It comes with five pressure settings and has more features and a larger water tank (350ml) than Miracle Smile.
Waterpik Water Flosser: It is cordless and it can be used on braces. It also has three pressure settings like Miracle Smile.
Instafloss: It also has a U-shaped head that flosses the top and bottom teeth at the same time just like Miracle Smile Water Flosser but it is heavier.
Is Miracle Smile Water Flosser Worth Your Money?
Miracle Smile Water Flosser is a portable water flosser that helps take out dirt from teeth but users have affirmed that it does not remove stains and tartars from the teeth which is it major claim.
No doubt, water flossers are effective than other other ways of dental cleaning. However, before using any water flosser, it is safe to consult your dentist. There are many fake dental products in the market. Some of these product can cause more damage to your teeth and gum. Similar products we have reviewed are Mixanxi tooth powder and Othosparkle toothbrush
Have you made use of Miracle Smile Water Flosser? Did it work well for you? Kindly drop a message in the comment section telling us about your experience.