Are you suffering tooth discoloration and you are thinking of the best product to eradicate those stubborn stains? Wondering whether Miyanxi tooth powder is truly capable of improving your dental health, giving your teeth a long lasting freshness so that you can smile confidently? Then, this review is for you. Read this review to the end to know whether it is worth buying or not.
It is common to see several products online claiming that they provide the best services in the market. This is as a result of the fact that people are always seeking for easier ways to get quality services with lesser cost. Therefore, one need to thread with caution.
About Miyanxi Tooth Powder
Miyanxi Tooth Powder is a teeth whitening product that is said to be capable of removing stains from coffee, tea, smoking and yellow teeth easily and fast. According to the manufacturers, it removes food particles by penetrating the gaps in the enamel and deep stains embedded in them without leaving residues.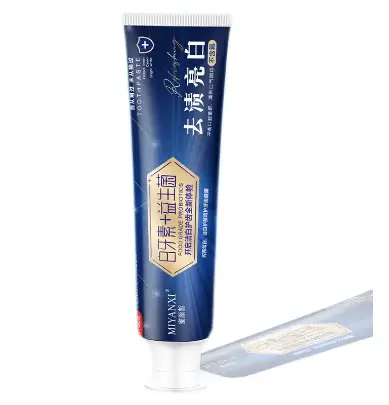 Now, the question here is this: Does Miyanxi Tooth Powder really work as it is being showcased? We will uncover that shortly.
Features of Miyanxi Tooth Powder
Miyanxi Tooth Powder is light yellow and with mint flavor. The net content of this teeth whitening toothpaste is 50g/ml and its dimension is 1 x 1 x 1 inches; 1.6 Ounces. The ingredients used in making this product are Edible probiotics, Xun Bai teeth fresh breath, Water, Glycerin, PEG-400, Hydrogen Peroxide, Sodium Hydroxide, Disodium EDTA, Potassium Nitrate, Saccharin Sodium, and Mentha Pulegium.
How to use
Using this product involves the following steps:
Step 1: Clean your teeth with warm water.
Step 2: Apply the toothpaste to your toothbrush
Step 3: Brush for a duration of 2 minutes without water
Step 4: Rinse your mouth with water.
Pros
Long lasting fresh minty breath
Teeth starts whitening after consistent usage
Removes plaque and tartar
Teeth sensitivity reduced gradually.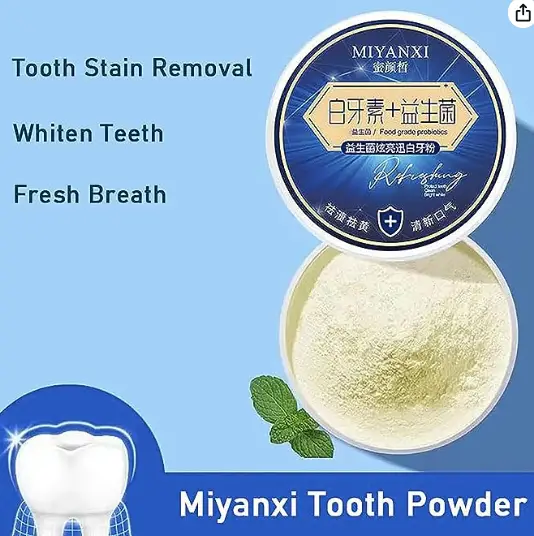 Cons
There are no customer reviews from any of the e-commerce platforms like Amazon
The ingredient list is written only in Chinese which makes it difficult for non-Chinese speakers to comprehend.
Is Miyanxi Tooth Powder worth your money?
Miyanxi Tooth Powder claims to be capable of helping people battling with oral issues such as plaque, tartar, and calculus to effectively cleaning their teeth, making it sparkling. However, these claims are not verified as there are no customer reviews of this product online.
We advise buyers to always carry out due diligence before purchasing any oral health products so as not to regret their actions. Not all tooth whitening powder are good for the health. Some can cause damage to the gums and enamel. Other products we have reviewed are Smartshavy hair eraser, Alpilean weight loss capsule and Sea scouts blackhead remover
Have you made use of Miyanxi Tooth Powder? Did it work for you? Kindly drop a message in the comment section telling us about your experience.