Are you contemplating ordering for Slick barrier? Do you think it will stop pests and insects from entering your house and causing you discomfort? Before giving it a try, read this review to the end to know whether slick barrier paint is the best for you or if its just one of those fake products in the market.
It is common to see several products online claiming that they provide the best services in the market. This is as a result of the fact that people are always seeking for easier ways to get quality services with lesser cost. Therefore, one need to thread with caution.
About slick barrier
Slick barrier is a pest/insect control product sold at slickbarrier.com. The coatings is said to be designed to prevent crawling pests from entering your home. According to the manufacturers, using this product, you can say goodbye to pests and insects because it is a simple yet innovative solution that will change the way you manage pests. It is also safe for children and pets once dry.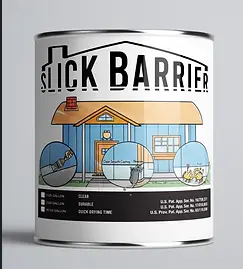 Now, the question here is this: Does slick barrier really work as it is showcased? We will uncover that shortly.
Features of Slick barrier
Slick Barrier has various subscription plans. The Starter Kit comes with a brush, gloves, cup as well as 2 quarts of the Slick and is sold for $99. It is also pesticide-free and easy to apply on various surfaces such as brick, concrete, stucco, etc. When you apply the coatings and films to the foundation of your home or a few inches off the ground, pests and insects will be prevented from climbing the exterior walls and gaining entrance into a home. Another interesting fact is that it's plastic-like clear barrier when dry and can last up to two years if it is exposed to extreme weather.
How to apply
Step 1: Apply 1-2 coats of the water-based
Step 2: Add 1 coat of the solvent-based coating to keep crawling insects out.
Note: Slick Barrier needs to be on a vertical surface for it to work. 
Tools needed for application
N95 or better mask
Disposable gloves
Safety goggles
Closed toe shoe.
Still confused on how to go about applying it on your home, the video below serves as a guide.
Pros
It is free from pesticide
Easy to apply on home surfaces
It is safe from children and pets and also fit for use for home and business places
It prevents and kills insects and pests like rat, squirrel and scorpion.
Cons
It is quite expensive
No customer review of this product yet
Is Slick barrier worth your money?
Slick barrier seems to be better than other similar products in that it not only kills and prevents pests, it is also used for chasing away insects, However, we cannot guarantee its effectiveness because we could not find any customer review online. This is something we find worrisome because it is necessary for us to fully endorse this product. Buyers are therefore advised to carry out due diligence before making purchases so as not to regret their actions.
Have you made use of slick barriers? Did it work for you? Kindly drop a message in the comment section telling us about your experience.