Did you come across the YouTube ads promoting Ulti charge charger as the fastest phone charger in the market and you are contemplating placing an order? Wondering if all the claims are true? Then this review is for you. Read this review to the end to know whether it is worth buying or not.
It is common to see several products online claiming that they provide the best services in the market. This is as a result of the fact that people are always seeking for easier ways to get quality services with lesser cost. Therefore, one need to thread with caution.
About Ulti-charge charger
Ulti-charge phone charger is a 4-port USB charger that is said to be the capable of charging your phone fully just under 15 minutes. According to their website get-ulti-charge.com, this charger uses a never-before-seen built-in intelligent chip design that keeps your devices from overcharging and overheating which can cause damage to your devices.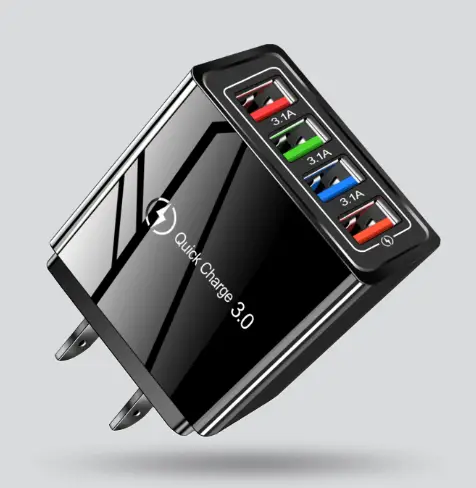 Now, the question here is this: Does Ulti-charge charger really work as it is being showcased? Are all these claims true? We will uncover that shortly.
Features of Ulti-charge charger
Ulti Charge is said to be safe to use even with four devices charging simultaneously and is compatible with any USB-powered device, irrespective of the brand or operating system.
Pros
Comes with 4 Charging Ports
Charges all USB-powered devices such as tablets, phones laptops.
Cons
Bogus claims
The promotional ads on flying around on YouTube and as well as other blogs claim that this charger reverses battery aging and prevents damage of devices. Unfortunately, these claims are false. The reverse is the case. The charger ends up destroying the battery life of your device due to overheating.
Suspicious owner
Take a look at the body of the charger and you will see that it carries the word 'Quick Charge'. which happens to be a Chinese product that is available on Aliexpress and Amazon. Ulti-Charge purchased these chargers from the Chinese market and rebranded it using the Middle school story as a marketing strategy. This shows that get-ulti-charege.com is not a trustworthy site.
Fake user reviews
The only positive reviews we could find about this product are the ones given on their website. Sadly, these are not real reviews from users. They are just randomly selected reviews and pictures online and not from real users. They are the same reviews used by other similar products. We found several negative reviews from real users of this product on Trustpilot as well as other sites expressing their displeasure: attesting to the fact that ulti charge charger does not charge fast. Their email address is not even functional so getting a refund is impossible. This goes a long way to show that this product is not to be trusted.
It is pricey
Get-ulti-charge.com is selling the charger for $29 and claims that they are selling it at a discounted price whereas, 'Quick Charge' is been sold for as low as $4 on Aliexpress. The margin between the two prices is way too high. Why spend so much buying ulti charge charger when there are other cheaper options out there.
Is Ulti-charge charger worth your money?
Ulti-charge mobile quick charger is said to be capable of charging your device from 0 to 100% just in 15 minutes and also protecting your battery from overheating. However, we do not endorse this product because their claims are false and their promotional images and videos are not real.
No doubt, there are fast chargers in the market but not as fast as ulti charge claims. We advise buyers to always carry out due diligence before purchasing products online so as not to regret their actions. Other products we have reviewed are Reetata Green Tea Mask, Emma relief supplement and Orthosparkle toothbrush
Have you made use of Ulti-charge charger? Did it work well for you? Kindly drop a message in the comment section telling us about your experience.