Do you wish to smell nice anywhere and anytime? Are you contemplating placing an order for fresh fragrant mini atomizer spray bottles? Before doing that, read this review to the end to know whether to go ahead with your purchase or not.
It is common to see several product providers online claiming to offer the best product in the market. This is as a result of the fact that people are always seeking for easier ways to get quality services with lesser cost. Therefore, one need to thread with caution.
About Fresh fragrant
Fresh fragrant is a product sold at freshfragrant.com. It is a refillable atomizer spray that you can carry along anywhere you go. According to the manufacturers, it is a perfect replacement for the classic plastic bottles.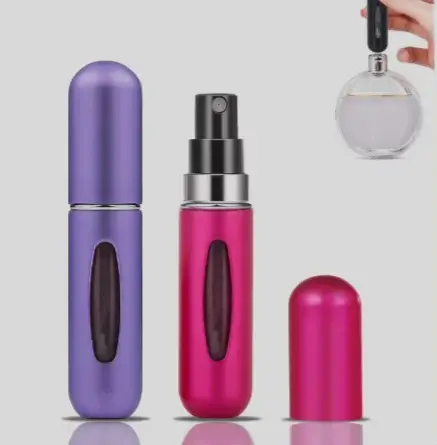 Now, the question here is this: Is fresh fragrant as durable and convenient as showcased? We will uncover that shortly.
Features of fresh fragrant
Fresh fragrant spray bottle is made with aluminum shell. It has a size of 1.6cm* 8cm and a net weight of 14g. The spray bottle comes with a detachable nozzle that also rotates. It can be refilled once the perfume finishes. The Mini Atomizer Spray Bottle 8ml is sold for $8, 5ml cost $6 while 2 Mini Atomizer Spray Bottle 5ml is sold for $11.
How to use this spray bottle
Using this product involves three steps
Step 1: Uncap your perfume
Step 2: Refill the spray with your favorite perfume
Step 3: Spray!!
Pros
It can be used more than once
It is portable and convenient
Comes with different sizes
The nozzle can be rotated and detached.
Cons
No customer reviews yet
We cannot find any user review of this product on their website or even on external sites which is something we find worrisome. There is no way we can actually confirm whether this product provides the desired satisfaction.
Newly registered website
One of the things that online shoppers should look out for in a website is how long it has been in existence. Unfortunately, freshfragrance.com happens to be a newly registered website. It was just created in January 15, 2023 and expires January 15, 2024. This shows that the website lacks credibility. Online shoppers need to be cautious when making purchases or using services from a very new website because they lack security.
Lacks social media visibility
This brand is not even present in any of the social media platform. This does not speak well of the product. A trustworthy product brand should be visible in at least one of the social media platforms.
Is Fresh fragrance worth your money?
Fresh fragrance is said to be innovative and convenient. However, we cannot guarantee its efficiency because we could not find any customer review online. This is something we find worrisome because it is necessary for us to fully endorse this product. Buyers are therefore advised to carry out due diligence before making purchases so as not to regret their actions.
Have you made use of fresh fragrance spray? Is it worth buying? Kindly drop a message in the comment section telling us about your experience.