Are you suffering from poor vision? Are you wondering whether Visisoothe supplement is really capable of enhancing your eye health? Before giving it a try, read this review to the end to know whether this is the best product for you or if its just one of those fake products in the market.
It is common to see several products online claiming that they provide the best services in the market. This is as a result of the fact that people are always seeking for easier ways to get quality services with lesser cost. Therefore, one need to thread with caution.
About Visisoothe
Visisoothe is an eye health formula. According to the manufacturers, this dietary supplement can help assist fading vision while enhancing mental clarity and energy levels forever. The supplement claims to be made with ingredients that are proven to be effective in eliminating eye problems and that facilities used in making it are GMP-certified.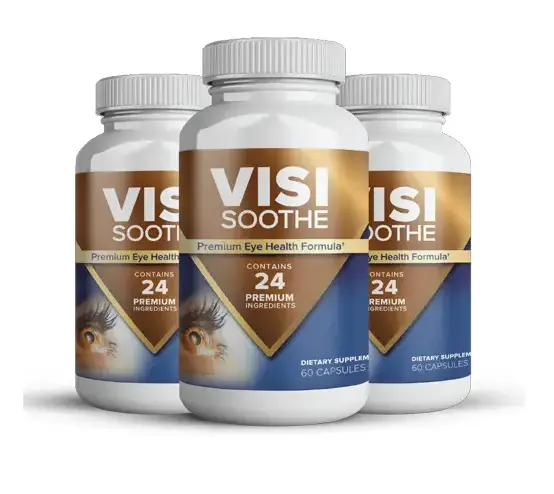 Now, the question here is this: Does visisoothe work as showcased? We will uncover that shortly.
Features of visisoothe
Visisoothe supplement is made with 24 ingredients some of which are Zeaxanthin, Astaxanthin, Blueberry Extract, Lutein and bilberry Extract. A bottle contains 60 capsules. Two capsules should be taken daily for proper effectiveness.
Visisoothe pricing
30-Day Supply of visisoothe goes for $69 plus FREE SHIPPING to the US.
90 days supply (Three bottles) is sold for $59/bottle. The total price is $177 plus Free US shipping.
For 180 days (Six bottles), each bottle cost $49 and the total price is $294 plus FREE US shipping.
This means that the more bottle you purchase, the more the discount you get.
Pros
Made with natural ingredients and contains vitamins
The ingredients used in making this supplement are known to be beneficial in restoring and maintaining good eyesight.
The capsules are easy to swallow and is suitable for elderly people.
Cons
Unknown manufacturers
There are no details about the producer and seller of this eye supplement. This makes using the product risky. we usually advise shoppers to purchase products from well known brands to reduce the risk of being scammed.
Negative customer reviews
We cannot find any user review on the website which is something we find awkward. We also found negative reviews from users of this product on Amazon and other external sites attesting to the fact that the product does not provide the desired satisfaction. They complained that are no improvement in their vision, some noticed reactions in their body after usage such as itching and redness of eyes. They are also side effect of using this product for people with allergies..
Not sold in physical stores.
Visisoothe supplement can only be purchased online through their official website. They are not sold in physical stores.
Is visisoothe worth your money?
Visisoothe supplement is said to be capable of improving blurry vision and enhancing mental clarity as well as other health benefits. However, we cannot fully guarantee its effectiveness because we could find several negative customer review on Amazon. Although, there are still some positive reviews of this product on other external site.
No doubt, taking supplements is a good way of keeping the body healthy and fit but we advise buyers to always carry out due diligence before purchasing any supplement so as not to regret their actions.
Most importantly, issues pertaining the eyesight should not be taken for granted and as such, before taking any eye supplement, we would recommend that it should be certified by your doctor or physician. There are many fake products in the market now as you can afford to take chances.
Have you made use of Visisoothe eye health formula? Did it work for you? Kindly drop a message in the comment section telling us about your experience.