Have you been searching for the best solution to your dry, damaged and frizzy hair and you came across Superzero shampoo? Wondering whether this shampoo bar will make your smooth and shiny? Then this review is for you!
In this review, you will get to find out how effective this shampoo bar is so that you can decide whether it is worth buying or not. Read on!
About Superzero Shampoo
Superzero Shampoo bar for dry, damaged hair and light frizzy hair is a hair treatment product that provides a touch of magical hair care for dry, unruly and dull hair. This hydrating bond repair shampoo lessens frizz, cleans and provide nourishment to the hair and prevents hair breakage. The hair and scalp becomes soft, strong, shiny and healthy after use and retains its color.
Now, the question here is this: Does Superzero Shampoo really work as it is being showcased? We will uncover that shortly.
Features and Ingredients
Superzero Shampoo bar is packaged in a bag made from organic, unbleached cotton.  The product dimension is 2.8 x 1.25 x 2.8 inches; 3 Ounces. The key ingredients used in making this product includes bond-building technology which helps to strengthen the internal hair structure, Triolein (Keeps the hair scalp and biome hydrated and reduces water loss, Hemisqualane for frizz reduction and wet combing energy and Shea Butter which softens, moisturizes and shines the hair. These natural ingredients combines with a touch of lavender and chamomile oil to produce a suiting scent.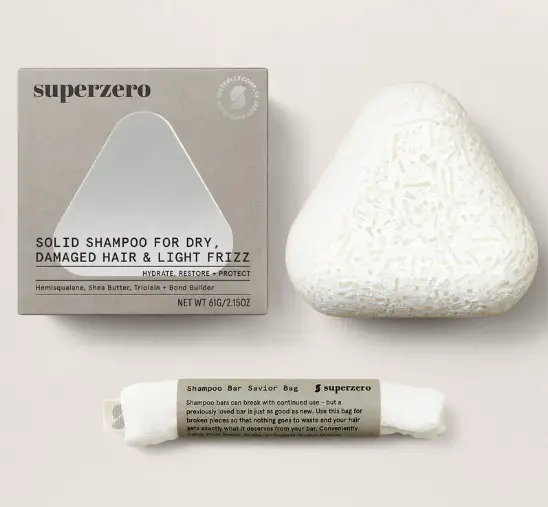 This Shampoo bar does not contain sulfates, soap, silicones, synthetic fragrances, phthalates, DEA, artificial dyes, formaldehydes, phthalates, parabens, gluten, plastic, microplastics. It is not harsh and the package can be recycled.
How To Use
Step 1: Wet the bar and your hair
Step 2: Rub the bar across your hair till it gets into your scalp and produces lather.
Step 3: Rinse out the lather.
Step 4: Apply conditioner.
Is It Good For All Hair Types?
Superzero Shampoo is made for use on variety of hair types such as wispy, hair, fine hair among others. However, it may not work well for people with a very oily hair.
Are There Side Effects?
Side effects such as irritation of the scalp and dryness are likely to occur. However, these effects are short term and not severe. Some users may also suffer reactions to some of the ingredients used in making this product.
Does Superzero Shampoo Really Work? Reviews from Users:
There has been a mixed review of this product. A lot of users applauds this hydrating and Repair Shampoo bar for its eco friendliness (being plastic free) and the fact that it is easy to use, lathers easily and worked perfectly on their hairs.
However, a few others complained that it did not meet their expectation; Though it cleaned up their hair, the hair ends up becoming dried out, dull and fragile. Some also said that it does not last long and they did not like the scent.
Generally, Superzero Shampoo contains natural and clinically-proven formula and the customer rating of this product is high compared to other traditional Shampoos.
Pros
It is environmentally and travel friendly
It repairs damaged hair and is color safe
There are positive customer reviews and rating of this product on stores like Amazon
The bar can be used on chemically treated hair.
It is made with natural ingredients
Cons
May not work well on very oily hair
It does not last long
It dried out hair
Where To Purchase It
You can buy this product either from their official website (superzero.com) or from E-commerce stores like Amazon. The product is sold for $28.
Is Superzero Shampoo Worth your Money?
Superzero Shampoo is a plastic free solution to damaged and frizzy hair. However, before using this product fully, it is safe to carry out a patch test to know whether it suits your hair.
It is advisable to always carry out due diligence before purchasing any hair product so as not to regret your actions. There are many fake products in the market. Some of these product can cause more damage to your hair and scalp. Other products we have reviewed are Nood hair removal, Spyfocus and Wattsave energy saver
Have you made use of Superzero Shampoo? Did it work well for you? Kindly drop a message in the comment section telling us about your experience.