Are you searching for an effective power saving device that will help you save cost of electricity and you came across Wattsave Energy Saver? Are you contemplating giving it a try? Before doing that, read this review to the end to know whether this product is worth buying or not.
It is common to see several products online claiming that they provide the best services in the market. This is as a result of the fact that people are always seeking for easier ways to get quality services with lesser cost. Therefore, one need to thread with caution.
About Wattsave Energy Saver
Wattsave is a power saving device available for sale at getwattsave.com. It is said to be capable of regulating your power supply and saves up to 50% on power bills. According to the manufacturers, this energy saver cleans your powerlines from dirty electricity (unwanted overflowing power) with the help of its "unique and patented technology" that absorbs harmonic waves and buffer electric shocks thereby preventing energy spikes and power leakage.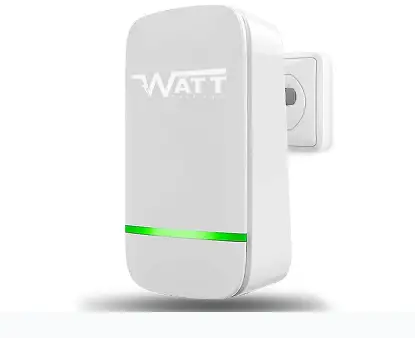 Now, the question here is this: Does Wattsave Energy Saver really work as it is being showcased? Are all these claims true? We will uncover that shortly.
How to use
Using this product involves the following steps
Plug in the device to a power socket.
A green light indicates that the device is working
Stabilize and save your energy bills
Pros
Easy to install
It is compact and portable
Cons
False claim
The manufacturers of Wattsave claims that this product reduces electricity bills. However, we found out that there are no noticeable changes in energy consumption or reduction of electricity bills after constantly using this energy saving device for several weeks. This is just a bogus claim used by the manufacturers as a marketing strategy to attract customers.
Fake user reviews
The only positive reviews we could find about Wattsave Energy Saver are the ones given on their website. Sadly, these are not honest reviews from users. They are just randomly selected reviews online and not from real users. Besides, it is not even possible for a product to have only 5-star ratings. We could not even find any customer review of this product on external site. This is something we find worrisome because it is necessary for us to be able to endorse this product. This goes a long way to show that this product is not to be trusted.
Ridiculous discount
Looking at their website, you can see that this Wattsave energy saver is being sold at a discounted price of up to 50% off. In addition, they are offering free shipping. The discount margin is really unbelievable. Offering mouth watery discounts is one of the tactics used by shady product providers to lure customers into purchasing a product as quick as possible. Therefore, we advise our readers to always be careful and carry out due diligence when dealing with products like this.
Prone to electrocution
Wattsave claims to make use of electricity stabilization technology. However, this product can be classified as a capacitor rather than a power saving device. The product is not even safe from the dangers of electrocution and fire outbreaks since we cannot tell the strength of the capacitor it possess (whether it is rated for connection across the AC line)
Only available on their official site
Wattsave Energy Saver can only be purchased through the official website. It is not sold on reputable e-commerce stores such as Amazon or in physical stores.
Is Wattsave worth your money?
Wattsave energy saver is said to be capable of reducing your energy bill. However, we do not endorse this product because their claims are false and there are no customer reviews on other sites except their website.
No doubt, energy saving devices can be be helpful but we advise buyers to always carry out due diligence before purchasing such products online so as not to regret their actions. Some of these devices can cause fire outbreaks. There are many fake products in the market.
To effectively reduce energy consumption at home or your office we would recommend that you Shutdown your computer, Choose the right light, unplug idle electronics, Use a power strip to reduce your plug load and turn off the lights. Other products we have reviewed are Visisoothe, Slick barrier and Tactical X Abs Stimulator
Have you made use of Wattsave Energy Saver? Did it work well for you? Kindly drop a message in the comment section telling us about your experience.