Do you wish to get rid of unwanted body hairs permanently? Tired of shaving and waxing? Wondering whether Nood Hair Removal is the really the perfect solution? Then read this review is for you.
This review gives a detailed explanation of this device which includes the benefits, downsides, features, user experience and other important information. This would to help you decided whether it is worth buying or not. Read till the end!
About Nood Hair Removal Device
Flasher 2.0 by Nood is a hair removal device sold at trynood.com. This laser handset is said to be capable of removing hairs faster and gently without irritation. It is made with UV-filtered lens that prevents harmful ultraviolet light from penetrating the skin. Nood Hair Removal destroys hair follicles and shaft.
Now, the question here is this: Does Nood Hair Removal really work as it is being showcased? We will uncover that shortly.
Features Of Nood Hair Removal
Nood Hair Removal makes use of Intense Pulsed Light (IPL) technology to painlessly remove unwanted hairs from places that hair grows such as Bikini area, Arms, Face and armpits. The package dimension of this device is 7.99 x 7.56 x 2.91 inches; 1.72 Pounds. Results becomes visible in 2-3 weeks of use and hair removes permanently in 6-8 weeks.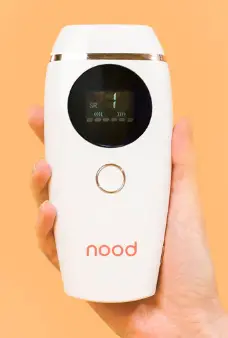 How To Use
Using this device involves the following steps
Step 1: Clean and dry your skin.
Step 2: Choose your desired intensity level.
Step 3: Flash on the skin holding the flasher at a 90 degree angle.
Step 4: Do same for all areas of interest.
Step 5: Repeat the process 3 times.
Note: For maximum result, it is recommended that you use this device two times in a week for the first two months. After then, you can now use it occasionally, say once in 3-6 months.
Is It Safe To Use?
Nood hair removal has been cleared by the FDA and certified safe to use. However, you are likely to experience some kind of pain when you increase the intensity of the device.
Is It Good For All Skin And Hair Types?
Sadly, Nood hair removal is not suitable for all hair and skin types. This device will not work for people with blonde and red hair or very dark skin.
Does This Flasher 2.0 Handset Really Work? See User Experience:
Having tried several hair eraser products like Smartshavy and others without getting the result I desired, I was skeptical when I first came across Flasher 2.0 by Nood. However, hearing that it can provide a permanently fix to my hair growth issues made me decide to give it a try.
My experience after purchasing the device has been good generally. Although, there was this slight feeling of discomfort I felt when I first used it. I noticed that it was because I set the flash intensity on level 6 just as the manual instructed. With time, I became comfortable using it. I also noticed that the laser window is not so large and as such, it only clean up less area at a time. This is really time consuming.
Overall, I am happy that those hairs have disappeared. The hair still grows back but slowly in those areas I used it on unlike before. I could even use in on sensitive areas.
Pros
It is easy to use
It reduces hair growth just within 8 weeks.
There are positive customer reviews and rating of this product on stores like Amazon
It is painless
It is clinically tested and safe to use.
It can be used on all body parts where there is hair.
It saves cost on the long run
Cons
Using it on higher level of intensity is quite painful
It does not suit people with fair skin.
The flash feature does not reset fast.
Where To Purchase It
You can buy this product either from their official website( trynood.com) or from E-commerce stores like Walmart and Amazon. The product is sold for $189.
Is Nood Hair Removal Worth your Money?
Nood hair removal is an effective solution to frequent hair growth. However, before making use of this product, it is safe to consult your dermatologist to be sure that it will suit your skin.
It is advisable to always carry out due diligence before purchasing any skincare product so as not to regret your actions. There are many fake products in the market. Some of these product can cause more damage to your skin. Other products we have reviewed are Numiere Plus, Glowbirds and Invigolux skin serum
Have you made use of Nood Hair Removal? Did it work well for you? Kindly drop a message in the comment section telling us about your experience.
.