Do you desire to have a smooth and glowing face? Wondering whether jaysuing collagen boost is the best product to help you achieve a wrinkle free skin? Then read this review is for you. Read till the end review for more information about this product.
It is common to see several products online claiming that they provide the best services in the market. This is as a result of the fact that people are always seeking for easier ways to get quality services with lesser cost. Therefore, one need to thread with caution.
About Jaysuing Collagen boost
Jaysuing collagen boost is an anti aging serum. It claims to brightening and repair damaged skin. According to the manufacturers, this wrinkle remover serum can solve skin aging problems such as fine lines and wrinkles, crow's feet, dry skin, dull skin, senile plaques or uneven skin tone. It is also suitable for any skin type.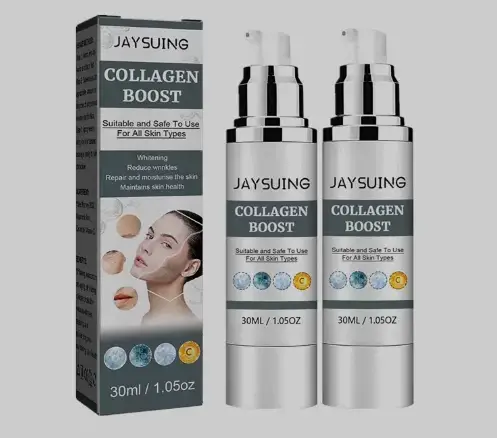 Now, the question here is this: Does Jaysuing collagen boost work as showcased? We will uncover that shortly.
Features of Jaysuing collagen boost
Jaysuing collagen boost serum is made of premium mix of organic and water-based formula. The net content of this serum is 30ml. The product size is about 10.8cm*3cm*3cm and it weighs around 43g. A continuous usage for at least 2 months is recommended in order to achieve the desired effect.
Jaysuing collagen boost Usage
Using this product involves three steps
Step 1: Clean and dry your skin after taking your bath.
Step 2: Apply the right amount of product on the desired spot
Step 3: Massage the serum into the skin.
Pros
Quite affordable
It can be used anytime of the day
It brings about facial firmness and hydration of the skin.
It helps in moisturizing, brightening, and rejuvenating dull skin.
Cons
No customer reviews
The only positive reviews we could find about this product are the ones given on their website and we can not rely on those reviews because they might not be honest reviews. There are no user reviews on external sites which is something we find worrisome. There is no way we can actually confirm whether this product provides the desired satisfaction.
False claim
As opposed to the claim that this serum eliminates wrinkles, we found out that there are no noticeable changes after constant usage for several weeks. Wrinkles did not still go off as promised. This is just a bogus claim used by the manufacturers as a marketing strategy to attract customers.
Does Jaysuing collagen boost worth your money?
Jaysuing collagen boost is a product that is said to be capable of solving skin aging problems such as fine lines and wrinkles, crow's feet, dry skin as well as other skin problems. However, we cannot guarantee its effectiveness because we could not find any customer review online except those given on their website. This is something we find worrisome because it is necessary for us to fully endorse this product. We also discovered that it does not remove wrinkles.
No doubt, collagen boosters provide some benefits but research has shown that it does not have the power to penetrate the body from outside. Therefore, we advise buyers to always carry out due diligence before purchasing any skincare product so as not to regret their actions.
Natural ways of reducing and removing wrinkles from the face includes regular washing of the face, avoiding ultraviolent lights, quitting smoking and reducing sugar intake. Other products we have reviewed are Emma relief supplement, Slick barrier and Lulutox Detox tea
Have you made use of Jaysuing collagen boost? Did it work for you? Kindly drop a message in the comment section telling us about your experience.