Do you wish to improve your brain heath? Are you wondering whether Neuriva Plus Brain Health Supplement is really capable of maintaining your brain cells for greater productivity? Then this review is for you.
This review gives a detailed explanation of this supplement which includes its features, usage, the good sides, drawbacks and many others. Read this review to the end to know whether this is the best product for you or if its just one of those fake products in the market.
Overview of Neuriva Plus Brain Health Supplement
Neuriva Plus Brain Health Supplement is a brain health supplement produced by Schiff Vitamins. It is said to be capable of maintaining, reviving and growing the brain cells. According to the manufacturers, this nootropic supplement contains ingredients that are clinically proven to help increase focus, memory, learning, accuracy, concentration and reasoning.
Now, the question here is this: Does Neuriva Plus Brain Health Supplement really work as it is being showcased? We will uncover that shortly.
Features Of Neuriva Plus Brain Health Supplement.
The major ingredients used in making this dietary supplement are Neurofactor (A fruit extract gotten from decaffeinated coffee cherry), plant sourced Phosphatidylserine, folic acid and vitamins B6 and B12. The product dimension is 2.87 x 2.87 x 5.37 inches; 8.13 Ounces. It is available in form of Capsules and Gummies. The capsules are 30 in a bottle while the Gummies are 50 per bottle. The gummies have a Strawberry flavor while the capsules are made from Coffee Cherry Extract.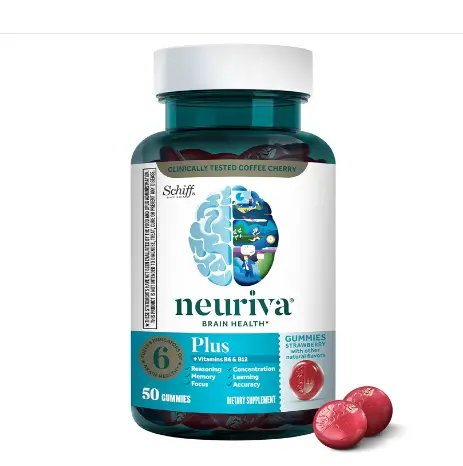 How To Use
For effective result, it is recommended that you take one capsule or gummy per day. The supplement should be taken at bedtime.
Is It Safe To Use?
This supplement is generally safe to use. However, it is only suitable for persons that are 18 years and above. Also, pregnant women or people with existing health issues are not advised to use this product.
Are There Side Effects Of Using This Dietary Supplement?
Users of this Neuriva supplement are likely to experience some side effects which includes Insomnia, Gastrointestinal problems, Diarrhea, Headache and Allergic reaction to any of the ingredients. Therefore, there is need to consult the doctor before use.
Does Neuriva Plus Brain Health Supplement Really Work? See Reviews From Users:
Impressively, Neuriva Plus has gotten many positive feedbacks from users. It ranks 4.2 out of 5 on Amazon. Most users testify that their memory and sleep time have improved greatly since they started using this nootropic supplement.
However few others complained that they did not see any improvement. Some also disliked the taste of the gummies stating that they prefer the pills over gummies. Another downside people mentioned is the price. It is expensive compared to similar products in the market.
Generally, Neuriva supplement seems to be effective in reviving the brain cells and mental health. It just needs to be improved on to serve its users better.
Pros
It helps to improve memory, sleep and focus.
The supplement contains ingredients that helps to improve mental heath.
It is easy to swallow or chew.
It is gluten free.
Drawbacks
It is quite expensive
The gummies do not have a great taste
The ingredients contains some additives that may cause allergic reactions.
Where To Buy
You can buy this product either from their official website( schiffvitamins.com) or E-commerce stores like Walmart and Amazon. The product is sold for $49.49 on their official site and $32.82 on Amazon.
Is Neuriva Plus Brain Health Supplement Worth Your Money?
This Nootropic brain health support Supplement helps in maintaining the brain cells. However, before using this product, it is safe to see a doctor to know whether it would not pose any danger to your health. Other products we have reviewed are Miracle smile water flosser, Spyfocus and Heat wolf deicer
Have you made use of Neuriva Plus Brain Health Supplement? Did it work well for you? Kindly drop a message in the comment section telling us about your experience.