Do you desire to have an even-toned skin and glowing complexion? Wondering whether Oilex yellow peeling oil is the best product to help you achieve a spot free skin? Then read this review is for you. Read till the end review to know whether it is worth buying or not.
It is common to see several products online claiming that they provide the best services in the market. This is as a result of the fact that people are always seeking for easier ways to get quality services with lesser cost. Therefore, one need to thread with caution.
About Oilex yellow peeling oil
Oilex yellow peeling oil is a skincare product that is said to be capable of exfoliating the upper surface of the skin and gently removing dead skin cells and clogged excess oil. Oilex natural spots whitening Yellow Peeling supports natural skin cell renewal without irritation. According to the manufacturers, this product contains natural ingredients that quickly absorbs to the skin and gently penetrates to its layers and interferes with melanin or the increase in pigment production, leaving you with a soft and glowing skin.
Now, the question here is this: Does Oilex yellow peeling oil work as showcased? We will uncover that shortly.
Features of Oilex yellow peeling oil
The ingredients used to make this product are Salicylic Acid, Glycolic Acid, Licorice Root Extract and Centella Asiatica Extract. It has a Net content of 50ml/1.7oz and can be used on all body parts.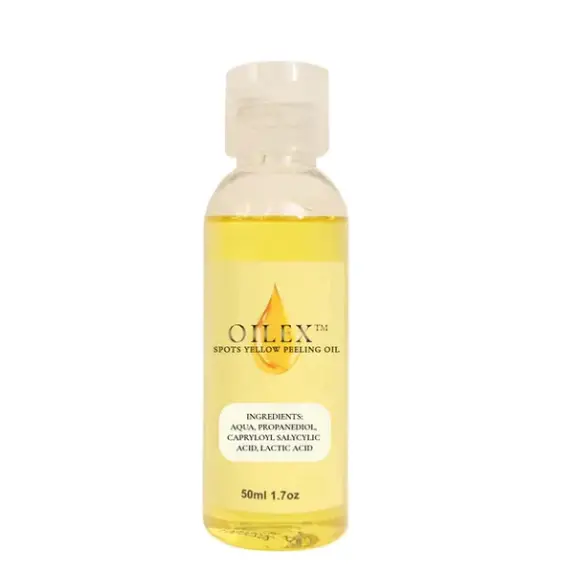 How to use
Using this product involves the following steps
Clean your skin before apply the oil on skin surface.
Wait for 15-20 minutes and gently peel off.
Rinse off and apply cream/moisturizer. For optimal results, daily usage is recommended,
Pros
Encourages collagen production
Made with natural ingredients
Can be used on all body parts
Smoothening skin but not immediately
Cons
No user reviews online
The only user reviews we could find about this product are the ones given on their website. Sadly, we cannot rely on them because they might not be honest reviews. There are no customer reviews on other e-commerce platforms like Amazon. This is something we find worrisome. Therefore, we cannot trust this product.
Bogus claims
As opposed to the claim that Oilex yellow peeling oil removes spots within a short period of time, the exfoliation process takes longer time and the spots do not still go off completely as promised. This is just a bogus claim used by the manufacturers as a marketing strategy to attract customers.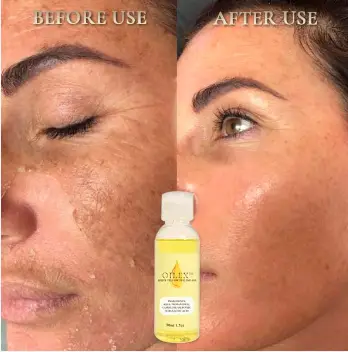 Prone to side effects
This spot whitening oil may not be suitable for everyone. Users of this product are likely to experience side effects such as skin irritations like eczema and acne especially for people whose skin are sensitive.
Does Oilex yellow peeling oil worth your money?
Oilex yellow peeling oil is a product that is said to be capable of solving skin problems such as exfoliation of dead skin and spot removal. However, we cannot guarantee its effectiveness because we could not find any positive customer review online except those given on their website. This is something we find worrisome because it is necessary for us to fully endorse this product.
No doubt, yellow peeling oils are helping in improving skin condition, However, we advise buyers to always carry out due diligence before purchasing any skincare product so as not to regret their actions. There are many fake products in the market. Some yellow peeling oil can cause more damage to your skin.
Natural ways of reducing and removing spots from the face includes regular washing of the face, avoiding ultraviolent lights, quitting smoking and reducing sugar intake. Other products we have reviewed are Optiguard Camera, Glowbirds and IONSTech Unique Fiber Restoration Shaper
Have you made use of Oilex yellow peeling oil? Did it work for you? Kindly drop a message in the comment section telling us about your experience.