Are you looking for a reliable and easy-to-use security camera and you came across Optiguard Camera? Wondering whether Optiguard Camera is the best camera that will help you enhance your surveillance? Then this review is for you. Read till the end review to know whether it is worth buying or not.
It is common to see several products online claiming that they provide the best services in the market. This is as a result of the fact that people are always seeking for easier ways to get quality services with lesser cost. Therefore, one need to thread with caution.
About Optiguard Camera
Optiguard Camera is a light bulb security camera that is said to be capable of helping you protect your home, business or office. According to the manufacturers, this light bulb camera has built-in features that provides you with a 360° degrees panoramic viewing area which can be monitored via your phone in a real-time and it also comes with function to scare off intruders in order to safeguard your home, office or garage. This means that you can see the inside of your home, hear and talk back on your smartphone no matter where you are, with Optiguard HD video and built-in infrared night vision.
Now, the question here is this: Does Optiguard Camera work as showcased? We will uncover that shortly.
Features of Optiguard
Optiguard light bulb camera has a camera resolution of 1080P and 360 Rotation. It helps you see, talk and listen to your love ones or scare off the unexpected person even if you are not at home. It also works without batteries or wires. All you just need is the app which is available for both android & iOS.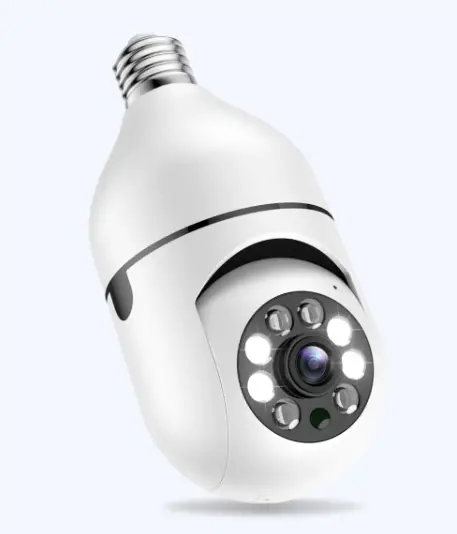 How to install and configure
The following steps are what it takes to setup this camera
Step 1: Turn Off the Light bulb socket
Step 2: Connect the camera's E26/E27 socket to your regular light bulb socket
Step 3: Scan the QR code on the camera in order to connect it to the app
Step 4: Get the app Installed on your smartphone
Step 5: Turn on your WiFi. (Note: Optiguard security camera is compatible with 2.4GHz WiFi)
Step 6: Connect your phone and you are now ready to watch recorded or live videos on your phone.
Pros
It has a high camera resolution
Easy to install
Can be connected to your phone or tablet
Comes with Infrared and white LEDs for full-color night vision
Cons
Ridiculous discount
Looking at their website, you can see that Optiguard camera is being sold at a discounted price of 50% off. In addition, they are offering free shipping on orders over $69. Offering mouth watery discounts is one of the tactics commonly used by shady product providers to lure customers into purchasing a product as quick as possible. Therefore, we advise our readers to always be careful and carry out due diligence when shopping online.
Difficult to configure
Configuring this surveillance camera is not as easy as it takes to install the camera. It requires extra time and cannot be used in places where there are no constant supply of electricity since it does not use battery.
False claims
Optiguard does not provide the desired satisfaction it claims to. All the said benefits are just bogus claims made to draw people's attention so that they can purchase the product. The camera is not effective.
Negative reviews online
The only positive reviews about this product are the ones given on their website. Sadly, they are not honest reviews. Sadly, we found some negative reviews from users of this product on Trustpilot. Some complained that the camera they ordered were not delivered to them while some were not satisfied with the product they got. Their email address is not even functional so getting a refund is impossible.
Does Optiguard Camera worth your money?
Optiguard is a surveillance camera that is said to be capable of helping you effectively monitor your home and office. However, we do not endorse this product because we found several negative customer review of this product online.
No doubt, light bulb cameras are a good way of protecting your home from intruders, However, we advise buyers to always carry out due diligence before purchasing any of these cameras product so as not to regret their actions. There are many fake products in the market. Other products we have reviewed are Sea Scouts blackhead remover, Hyperarch Motion Shoe and Liba Weight loss capsule
Have you made use of Optiguard Camera? Did it work for you? Kindly drop a message in the comment section telling us about your experience.