Are you struggling with frequent hair loss and you desire a fuller and healthier hair? Do you wish to know whether Renew Hair X is the best solution for reviving your hair? Then this review is for you.
In this review, key information about this hair treatment will shared so that you can be able to make the right decision. These information includes the product's features, pros, downsides, how it is being used and many other details. Read till the end!
About Renew Hair X
RenewHairX is a hair and beard regrowth product that is capable of restoring lost hairs and putting an end to hair breakage. When applied to the hair, it cleans and exfoliates dead skin cells making the hair fuller, darker and shinier just with few weeks. The ingredients used in making this hair roll on treatment are natural
Features and Ingredients
Renew Hair X Roll-On Hair Treatment is has a content weight of 18ml. This product is formulated with 4 major Ingredients which are Minoxidil, which help to growing hair follicles, Glycerin( nourishes and increases hair follicles), Biotin which is responsible for stirring up hair growth) as well as natural ingredients like coconut oil, shea butter, and licorice extract.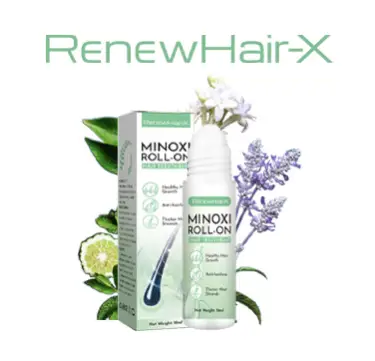 How To Use
Step I: Wash and dry your hair and beard
Step 2: Spread the roll on gently on the areas of concern
Step 3: Hair starts growing back within 2 to 4 weeks
Is It Good For All Hair Types?
Renew Hair X is made for use on variety of hair types such as curly hair, dry hair among others. However, people with dry hair might still experience a more drier hair.
Are There Side Effects?
There are few side effects of using Renew Hair X Minoxi Roll-On Serum. People with sensitive skins may suffer from stinging or tingling or other allergy due to any of the ingredients used in making this product. It is usually safe to carry out patch test before use.
Does This Hair Growth Serum Really Work? Here's My Take On It:
I decided to order for Renew Hair X after several months of battling with constant hair loss and breakage. I was skeptical about it at first because I could not find any review from users of this product online. Since I really wanted to put an end to my hair damage and regain my full and thick hair, I went on to purchase it. I tried the serum as soon as it arrived and I used it for weeks. One thing I noticed was that after some time my hair started growing back though it and the breakage reduced. Though, the improvement took longer than I expected, I appreciated the fact that it was working.
However, after some time, I started reacting to the product. I was experiencing skin irritation so I had to discontinue using it. I guess it was because I had a sensitive skin. The price of this roll on is also another challenge because I discovered that I could get even other similar hair treatments that work better at a cheaper price.
Pros
Grows back hair and stops breakage
Hair becomes thicker, healthier and shiny after use
It is easy to use
It is also suitable for use on beards
Cons
It is pricey
Renewhairx.com is selling a pack of this hair serum for $35 and claims that they are selling it at a discounted price whereas you can get similar product for a lower price online. Why spend so much buying Renew Hair X when there are other cheaper options out there.
Prone to side effects
This hair growth serum may not be suitable for all skin type. Users of this product are likely to experience side effects such as skin irritations especially for people whose skin are sensitive.
No customer reviews on other sites
The only positive reviews we could find about this product are the ones given on their website. There are no user reviews on other sites or e-commerce stores like Amazon which is really worrisome.
Where To Buy
This hair serum is sold on their official website (renewhairx.com). You can also get it from E-commerce stores like Amazon.
Are There Hair Growth Serums Better Than Renew Hair X
If you are looking for a more effective hair treatment that is cheaper than Renew Hair X, Then you can try out any of the following serums: PhytoWorx Hair Serum, Nioxin Cleanser and Treatment, Jamaican Black Castor Oil, Majestic Pure Rosemary Oil and Rogaine for Women.
Is Renew Hair X Worth Your Money?
RenewHair-X is a hair growth serum that solves hair loss and breakage problems. However, before using this product fully, it is safe to carry out a patch test to before fully using it because it may not suit all types. It has some drawbacks though. Aside being pricey, there are no customer reviews of this product online. If you are on a budget and you want to cut cost, you can go for any of the hair treatment serums mentioned earlier.
It is advisable to always carry out due diligence before purchasing any hair product so as not to regret your actions. There are many fake products in the market. Some of these product can cause more damage to your hair and scalp. Other products we have reviewed are Airmoto air pump, Oilex yellow peeling oil and Wattsave energy saver
Have you made use of Renew Hair X? Did it work well for you? Kindly drop a message in the comment section telling us about your experience.